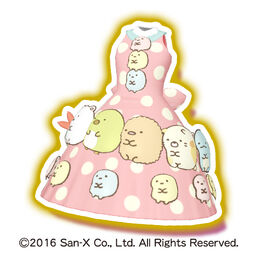 Do you guys remember this adorable
Sumikko Gurashi
Dress~?
If you do, or if you're seeing it for the first time then I bet you'll like this bit of news: a brand new Sumikko Gurashi coord is coming out!
I was going to get a picture of it but I decided not to spoil it, the coord should be visible on the wiki soon anyway~
At any rate, I brought this topic up because while I was browsing the official website I happened to notice this image: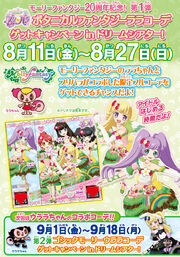 It advertises 2 collab coords with a series/brand known as Molly Fantasy. At least, that is what I think it is.
It made me realize, PriPara seems to be doing more and more collabs as of late. Isn't that exciting? x3 I kind of miss Bukigami and RONI stuff, but I always anticipate the next collab item that will come out~
I really wish they would do some with Pretty Cure XD that would be amazing! Or even vocaloid, since it's Vocaloid, and Aikatsu did it- so why not?
So once again, I'd like to ask you guys, What series would you like to see collabs done with PriPara?
Community content is available under
CC-BY-SA
unless otherwise noted.