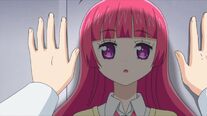 Hi!!! Me love Sophie!!! I'm Nashiko, and I live in Tokyo. These are other animes I love, Magic Kaito, Detective Conan, Yaiba, Deathnote, Mirai Nikki, Black Butler, Mononoke, Totoro, Laputa, Sailor Moon, Rosairio+Vampire, Souleater, Naisuciaa, Starry Sky, Hiraku no Go and others I'm too LAZY to type. My fav units are dressing pafe, Solami Smile, and any thing with SOPHIE-SAMA!!!!!!
Well, thats what I live for, Peoples.

My character ranking:
SOPHIE!!! TOO KAWAII!!!!! **sings, ai obairu taiyou no FLARE SHERBET!!!**
Leona= sweet kind BEAUTIFUL
Dorothy: cool, smart and like myself (just more attractive)
Mirei: PRI!!!! Enough said.
Hibiki sama is cool and amore-worthy
Shion- cool fearless AND reckless
Non=kawaii
Laala- kawaii+crazy+idol=awesome, but kinda weird
Garuru- cute and good singer
Pepper- pretty, cute, sweet, loving
Falulu- meh?
Mikan- kind of annoying
Aroma-NO CURSES ON DA RED HAIRED MAIDEN!!!!!
Jewlie/Jelulu- don't like the song girl's fantasy. Jelulu is cute.
Junon/ Pinon/ Kanon- Ummmmmm... kinda scary??? 3 people at the same time!
Fuwari-hated her until she joined tricolore
Chiri- NONONONONONO!!!
Ajimi- Me. No. Like. At. All.
Yui- What the hell? AVOCADO ACADEMY!!!???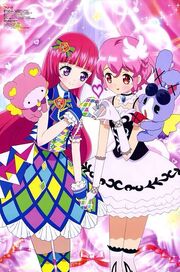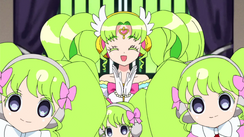 My favorite pages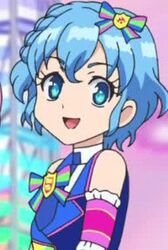 Community content is available under
CC-BY-SA
unless otherwise noted.