Hello! Or Konichiwa!
Thank you for using some of your time to checking my profile I am very grateful! It may not be as good as the others but I will improve my work on here! If you have any tips message me and I will see what I can do! Goodbye for now Minna! <3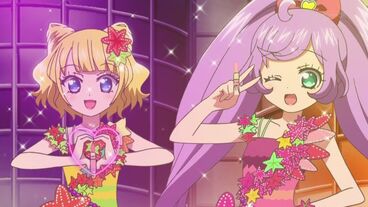 My Favourite animes:
One Piece
Love Live
Pretty Rhythm
Pripara/Idol time Pripara
Kobayashi-san Chi no Maid Dragon
Twin Star Exorcists (Sousei no Onmyouji)
My Favourite Groups:
SoLaMi Smile
NonSugar
Tricolore
Dressing Pafe
My Favourite Characters:
Laala Manaka
Sophie Hojo
Yui Yumekawa
Faruru Bokerdole
Non Manaka
Fuwari Midorikaze
Leona West
Mirei Minami
Mikan Shiratama
Dorothy West
Community content is available under
CC-BY-SA
unless otherwise noted.