Strawberry Floral Coord  (ストロベリーフローラル) has not yet been worn by anyone, nor has it appeared in the anime. This coord is very similar to the Lavender Floral Coord, Light Blue Floral Coord, and the Peppermint Floral Coord. This coord is from the brand Dreaming Girl, and is a Star Type coord.
User
TBA
Appearance
Top
A colorful top composed of a pale pink torso with pink ribbon traveling up the side and a frilly white center with two pink bows, each with a daisy in the center. Lining the bottom is a big pleated frill that is pink on top and white on the bottom, with a white floral design on the pink portion. A big light pink bow is on each side, also with a daisy in the center. Around the top is a white band with lines of pale pink and a chain of white flowers. The slighly puffed sleeves are pale pink with white specks creating a glittery texture, held with a white floral band and pink bow. Raspberry tulle lines the sleeve. Attached to the main sleeve is a white sleeve with a white flower chain and raspberry bow and raspberry tulle cuff. A pink sleeve sticks out from the bottom with the same raspberry and white floral tulle. Around the neck is a pink segment lined with raspberry floral tulle and a chain of daisies. A big pink bow is on the right side with two daisies on it. Comes with white jewelry pieces for the hands, two daisy bracelets for each wrist, and a daisy collar. 
Skirt
A skirt composed of many colored sections. The top portion is a frosted pink with glitter applied. So far down towards the middle are designs of pink-themed castles and scenery. The next section is pink pleated ruffle with a single white floral chain going around the center. Raspberry flower tulle lines the top and bottom. It's followed by a small amount of white and another raspberry tulle, then finally big white flowers. Wrapped twice around the upper skiort is a braided chain of pink, raspberry, and white material resembling long braided hair. Stren through it are daisies and pearl chains, along with a single pale pink bow at the end of each braid, followed by a big pink bow on the left corner. 
Shoes
Pink violet pumps with a single band wrapped around the foot. Where the foot inserts is a daisy chain, matching the single band going around the ankle. Comes with lavender stockings that have a pearl and flower chain design print. The cuff is white with a single chain of flowers. 
Game
Strawberry Floral Coord is a Rare Star Type coord from the brand Dreaming Girl. It first appeared in the February 2015 Millefaui Collection Vol. 4.
Image Gallery
Official Coord
| Top | Bottom | Shoes | Accessory |
| --- | --- | --- | --- |
| Strawberry Floral Tops | | | |
Others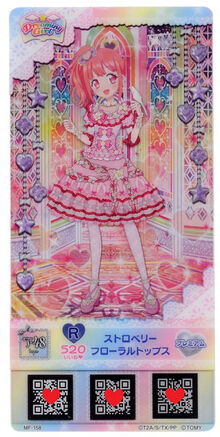 Community content is available under
CC-BY-SA
unless otherwise noted.