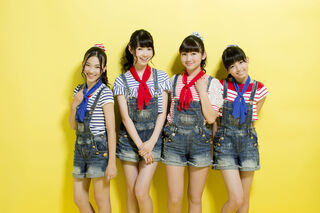 Prizmmy☆
(shortened from "Prism with me") was a Japanese idol group formely affiliated with Avex Entertainment but they later switched to Avex Pictures. They have sung many songs for Pretty Rhythm, PriPara's first ending,
Jumpin' Dancin'
, third ending
I Just Wanna Be With You ~Kasou to Shinjitsu no Hazama de~
and seventh ending
LOVE TROOPER
. Sometimes they collaborate with their sister group,
Prism☆Mates
to form
Prism☆Box
.
History
Previously a three person group, Mia, Reina and Karin (at that time called Prism Mates) were trained to be Prism Stars (it became a segment in Pretty Rhythm Aurora Dream) in Fashion, Dance and Singing. Later, their members increased when Ayami joined the team. They then announced their name would be "Prizmmy☆" and completed their debut single "Everybody's Gonna be Happy", which was Aurora Dream's 4th Ending. They sung most of the songs for Pretty Rhythm Dear My Future, where Prizmmy☆ were the main protagonists.
On 30th March 2014, Ayami graduated from Prizmmy☆ in order to continued her studies. On 5th April 2014, it was announced that Prism☆Mates' leader, Hina, joined Prizmmy☆.
On 9th December 2016, it was announced that they will disband at the end of March 2017, along with their sister group, Prism☆Mates.
They disbanded on March 31, 2017 during their last live "Hello My Future".
Discography
Albums
Take Off! (July 24, 2013)
Music Goes on (June 25, 2014)
Prizmmy THE BEST (February 22, 2017)
Singles
Everybody's Gonna be Happy (March 16, 2012)
Dear My Future ~Mirai ni Jibun E~ (April 25, 2012)
my Transform (April 25, 2012)
Brand New World (August 29, 2012)
Body Rock (November 21, 2012)
Panpina! (February 20, 2013)
Boy Meets Girl (May 22, 2013)
EZ Do Dance (July 24, 2013)
Crazy Gonna Crazy (October 30, 2013)
Butterfly Effect (February 5, 2014)
Jumpin'! Dancin'! (September 17, 2014)
I Just Wanna Be With You ~Kasou (Vacharu) to Shinjitsu (Riaru) no Hazama de (February 18, 2015)
Mini Albums
In

Prism☆Box
RainBowXRainBow (April 24, 2013)
Happy Star

☆Restaurant

(February 26, 2014)

Glitter Runway☆

(November 26, 2014)
Members
Current Members
Mia Kusakabe
Karin Takahashi
Reina Kubo
Hina Miyazaki
Former Members
Ayami Sema (Graduated March 2014) 
Trivia
While Pretty Rhythm Aurora Dream aired; Mia, Karin, and Reina all had major roles in the live action portion of the show. The live action segment showcased their training, performances, and coord creating.
Although they became Pretty Rhythm Dear My Future's main characters, their personality with their anime counterpart differs.

Also, although Reina is the group's leader in real life, Mia's counterpart was designated the leader in the anime.
The same goes for another unit PURETTY, when So Min (in real life) and Hye In (in the anime) took their part.

Prism

☆Mates' Mirei is Karin's sister.

All of the Prizmmy members (sans Ayami) were once part of Prism☆Mates.
Photos
 Videos