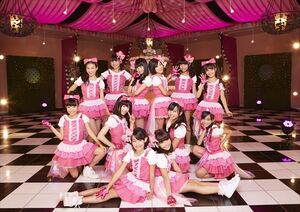 Prism☆Box is a Japanese idol group licensed under Avex Entertainment. They sang PriPara's second ED, Shining Sparkling Runway ☆. This unit is combination of the two idol groups Prizmmy☆ and Prism☆Mates.
History
Prism Box was created in 2013 and debuted with the single "Rainbow x Rainbow" on April 24, 2013. For this single, they were split into 4 categories. Singers, Dancers, Models and Chibicco. Momona didn't promote this song as she was only 8 years old.
Sana and Airi's first MV appearance was in Happy Star Restaurant however they weren't given any lines. Zutto mo! Zoo is a Prism Box song but Prism Mates members Kanon, Mirei, Airi and Momona were the only ones who promoted it more.
Despite it being their 3rd and final single ,"Glitter Runway" included all Prism Mates members even though Runa, Kanon and Natsu already graduated way before their disbandment.
When Prizmmy and Prism Mates disbanded on March 31, 2017 Prism Box was discontinued.
Discography
RainBowXRainBow (April 24, 2013)
Happy Star☆Restaurant (February 26, 2014)
Members
Current Members
Mirei Takahashi
Yuka Takayanagi
Momona Aoki
Airi Hamamura
Sana Ishii
Mia Kusakabe
Karin Takahashi
Reina Kubo
Hina Miyazaki
Former Members
Kanon Hagino
Natsu Usukura
Runa Suzuki
Trivia
Prism☆Mates' Mirei shares her name with an anime character in PriPara, Mirei Minami.
Prism☆Mates' Mirei is sisters with Prizmmy's Karin.
Two of their songs have been used for ending themes of Pretty Rhythm Rainbow Live

RainBowXRainBow is used as the first ending song for Pretty Rhythm: Rainbow Live.

RainBowXRainBow is their debut song.

Happy Star☆Restaurant is used as the last ending song for Pretty Rhythm: Rainbow Live.
Videos
Community content is available under
CC-BY-SA
unless otherwise noted.