Welcome to the PriPara Wiki!
We have 219,016 edits to 3,096 articles and 45,941 images on this wiki.
We also have 6 active users and 2 admins.
Please feel free to Edit the Articles and Add more Images!
If you are ever in need of assistance, please click this link. If you are a new editor, please read the Wikia Rules! It won't take long, we promise!
If you don't know where to start editing, click ''here'' for a list of basic wiki jobs! 
A big thank you to all of the editors here, this wikia now has 1500+ pages!
This Wiki was created on April 4th, 2014.
PriPara (Prism Paradise) is the sister show to the popular Pretty Rhythm series. The first episode aired on July 5th, 2014.
The new anime is set in the PriPara world, filled with girls' dreams for fashion, dance, and music. Every day, there are auditions that send top idols to worldwide fame on television and online. However, Laala's school prohibits Pri-Para for elementary school children. An unexpected chance leads Laala to make her first entrance into the world of PriPara, where she will make her debut. PriPara is also a new game which is replacing Pretty Rhythm. Like Pretty Rhythm, PriPara has an anime which is based off of the game, and has a story line to it. The main characters, Laala, Mirei, and Sophy, are also on the game.
This show is completely owned by Takara Tomy. All anime information and anime art belongs to them. For more info, here's their official site for PriPara! http://www.takaratomy-arts.co.jp/specials/pripara
Season 1
Season 2
Season 3
Idol Time PriPara
Idol Land PriPara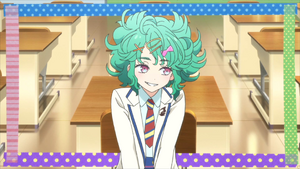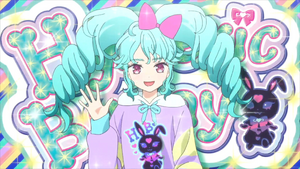 Our featured page is Amari Katasumi!
Amari is the main protagonist of Idol Land PriPara. Her dream is to become a sparkling idol, and she owns a notebook reflecting that dream. She encounters Laala for the first time and is eventually invited into the PriPara world, and she does her first performance as an idol, performing the song Chaotic Hurricane.
Her preferred brand is Hysteric Bunny.