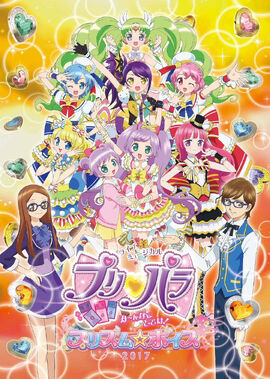 PriPara Live Musical: Reach everyone! Prism☆Voice
(ライブミュージカル プリパラ み~んなにとどけ!プリズム☆ボイス
Live Musical PriPara Mi~nna ni Todoke! Prism☆Voice
) is a live musical and the first PriPara live musical. It will star the original voice cast and feature a new musical exclusive character. The musical ran from February 4th, 2016 to February 7th, 2016 and made a return in 2017 from January 26th to 29th.
Synopsis
TBA
Plot
TBA
Differences between the 2016 and 2017 versions
Kuma is voiced by Chanko's actress, Ayano Kiriki in the 2016 version and by pre-recorded clips of his voice actor Chihiro Suzuki in the 2017 version; Suzuki continues to wear a Kuma plush as a backpack and move when he speaks
Jewlulu debuts in the 2017 version in a similar fashion to Kuma, voiced by pre-recorded clips of her voice actress Reina Ueda and worn as a backpack and manipulated by Eiko's actress Ayaka Nakanishi
After the opening performance of Make it!, two members of the ensemble played by Prizmmy☆, specifically Takahashi Karin and Miyazaki Hina, praise Laala's performance and perform Jumpin' Dancin' in the 2017 version
Each version takes place roughly at its current anime continuity: the members of SoLaMi Dressing mention CelePara and the events of season 2 in the 2017 version, declaring that their goal is now to become Divine Idols
The system error which leads to Laala travelling further back in time than intended is attributed to Jewlulu wetting herself during the trip
Mirei performs Go PuriPuriPu- in the 2017 version
Sophie performs the Sakura Shower version of Solar Flare Sherbet in the 2017 version with Primavera Maiden's Release as the Making Drama and the original version with the incomplete Valkyrie Maiden's Release in the 2016 version
In the 2016 version, attendents are given a piece of paper with the lyrics to Make it!'s chorus to sing during the climax of the show, while in the 2017 version the lyrics are projected onto the screen at the back of the stage
In the 2017 version, after Laala returns to the present, SoLaMi♡SMILE performs Triangle・Star, Dressing Pafé performs Run♪ for Jumping! and then SoLaMi♡Dressing (rejoined by the rest of the cast as backup dancers as per the other SoLaMi♡Dressing performances) performs Ready Smile!!
Cast
Performances
Date
Venue
Curtain
Cast
2/4/16
Zepp Blue Theater Roppongi
11:00 AM
All Cast
Little Laala: TBA
2/5/16
Zepp Blue Theater Roppongi
3:00 PM
7:00 PM
All Cast
Little Laala: TBA
2/6/16
Zepp Blue Theater Roppongi
11:00 AM
3:00 PM
7:00 PM
All Cast
Little Laala: TBA
2/7/16
Zepp Blue Theater Roppongi
11:00 AM
7:00 PM
All Cast
Little Laala: TBA
Total Performances: 8
Gallery
Videos
Trivia
This is the first PriPara musical
All of the main six characters' voice cast will potray them in the musical (with the exception of Little Laala which will be played by a set of younger actresses)
Little Laala's role is double cast
Akane Takayanagi (SKE48) will be playing a original character