PriPara ​Chibi Wiki Awards: 1.5 Power!
is the unofficial 2nd PriPara Wiki Awards. This event allows users to vote for thier favorite coords, songs, ect for PriPara. This award ceremony celebrates the second half of the PriPara Wiki Awards that were not covered in the 1st Award Ceremony. 
Nomineees
Episodes
Best Episode Arc: Saving Faruru Arc
Surprising Idol Arc (EP 27 - 30)


This arc follows the debut of the mysterious idol Faruru, who threatens the girls desire to win the Paradise Coord
Mystery of Faruru Arc (EP 31 - 35)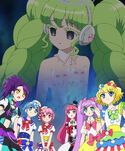 This arc focuses on Laala, Mirei, Sophie, Shion, Leona, and Dorothy all try to figure out the mystery of the mysterious Idol Faruru while also trying to win back the Paradise Coord form her.
Saving Faruru Arc (EP 36 - 38)

Faruru's life is on the line as the girls try to find a way to save Faruru.
Music
Coords
Other
External Links
Community content is available under
CC-BY-SA
unless otherwise noted.