Mia Hanazono is the older sister of Shuuka Hanazono and a former Divine Idol as a member of the legendary unit Saints. 
She is a parallel version of Mia Ageha, the protagonist of Pretty Rhythm: Dear My Future.
AppearanceEdit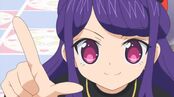 Mia has sharp, plum-colored eyes and fair skin. Her wavy, extremely dark purple hair is almost thigh-length with sections of hair at the ear pulled to the back of the head. Her bangs are mostly straightened, with two pointed locks on the right of the head. Her thin forelocks are chin length.
Originally Mia was depicted to resemble her Pretty Rhythm self.
Personality Edit
She is seen as the goofy older sister in comparison to the responsible Shuuka.
Significant Coords Edit
RelationshipsEdit
Image GalleryEdit
See Mia Hanazono/Image Gallery.
Mia's art changed slightly in the making of the movie, as the PriPara illustrators took over and redesigned the main protagonists from each respective series of Pretty Rhythm.
Her original alterego, Mia Ageha made appearances in Pretty Rhythm:All Star Selection and PriPara the Movie: Everyone, Assemble! Prism ☆ Tours along with Laala Manaka.
Her birthday is March 9th.

However, her birthday was confirmed to be August 8th in Pretty Rhythm.
Her birthday might have changed because March 9th is Mia Kusakabe (the real-life Mia in Prizmmy☆)'s birthday.

Her Saints unit coord is the same coord that she wore as a member of the temporary unit COSMOS in Pretty Rhythm:Dear My Future.
She is only the Saints member to not have pink as their main color, but rather red.

She is also the only member of Saints and protagonist of Pretty Rhythm to not be Lovely typed.

Her cyalume coord is her Symphonia Dress Of Passion from Pretty Rhythm Dear My Future. (Movie)

She is the first idol to wear 2 accessories at once during a Cyalume Change. (Movie)
She is also the first to wear an accessory that doesn't glow when she Cyalume Changes. (Movie)

She shares her hairstyle with Aiko.
She shares her Voice Actress with her Pretty Rhythm counterpart