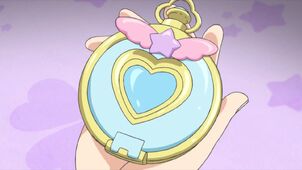 The Idol Watches are an item much like the PriPass and Cyalume Charm. It is given to an Idol upon entering the newly established PriPara in Paparajuku and is said to be part of the new system.
Usage
An Idol uses her Idol Watch by doing "Idol-like activities" within PriPara. Whenever the clock inside fills, a special gem heart based on the Idol's type is released, and with this heart an Idol will gain proof that she is ready to put on a performance. It can also provide her with a new song if she should need it, and is used on her microphone to allow her to perform Cyalume Time.
It is also able to be used to store an idol's mascot, although it does not seem possible for them to be able to exit from it unless in PriPara.
Appearance
Each idol watch resembles another, the only difference being the outside colors, based on an Idol's theme color, while the gem heart inside is base on her type.
The Idol Watch resembles a pocket watch with a gold border to match the border of the large pearl heart in the center, which appears darker than the base color. On top is a gold clover-shaped piece above a pearl sphere, for the user to connect it to a chain or string. Above the heart is a winged star.
So far only two color variations have been spotted: Lilac with a blue star and pale pink wings, or pale blue with a lavender star and pale pink wings.
Known Idol Watches
Laala Manaka, Sophie Hojo, Aroma Kurosu, Michiru Kouda, Shion Todo, Hibiki Shikyoin, Shuuka Hanazono, and Falala•A•Larm -Lilac
Yui Yumekawa, Mirei Minami, Nino Nijiiro, Mikan Shiratama, Gaaruru, Galala•S•Leep, Dorothy West, Leona West, Faruru Bokerdole, Fuwari Midorikaze, Mimiko Jigoku and Mia Hanazono - Pale Blue
Shougo Yumekawa - Navy Blue
Game
Merchandise
Releasing July 6, 2017 are the official Yui and Laala versions of the Idol Watch, each selling for 6,500 yen. Each include a special Laala/Yui Jewel for use in the game by clipping it into the back of the Idol Watch, with several more Jewels to be released throughout the series.
Special coords will also be produced under the Idol Watch line.
The Idol Watch can be used like the one in the anime, and such features include Mascot raising and a variety of other fun activities.
Image Gallery
Official Arts
Screenshots
Merchandise
Community content is available under
CC-BY-SA
unless otherwise noted.