Idols (アイドル Aidoru) are performers who sing and dance in concert performances. They consist of singers, dancers, and fashion models, who perform for all the fans and people watching to lift their spirits - and push themselves toward becoming Divine Rank Idols.
Notable Idols
Retired Idols
Notable Idol Units
Active
Disbanded
Idol Ranking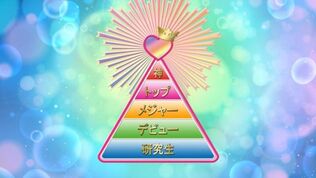 Idols are split into various rankings depending on unknown measures. Each rank is divided into different sections.
Divine (神アイドル, Kami Aidoru)

Eternal Idol (えいえんのアイドル, Eien no Aidoru)
Miracle Idol (キセキのアイドル, Kiseki no Aidoru)
Legendary Idol (でんせつのアイドル, Densetsu no Aidoru)
Unbeatable Idol (むてきのアイドル, Muteki no Aidoru)
Shining Idol (かがやきのアイドル, Kagayaki no Aidoru)
Fantasista Idol (ファンタジスタアイドル, Fantajisuta Aidoru)
Absolute Idol (ぜったいアイドル, Zettai Aidoru)

Top (トップ, Toppu)

Perfect Idol (パーフェクトアイドル, Pāfekuto Aidoru)
Serious Idol (マジアイドル, Maji Aidoru)
Charismatic Idol (カリスマアイドル, Karisuma Aidoru)
Beloved Idol (あいされアイドル, Aisare Aidoru)
E~veryone's Idol (み~んなのアイドル, Min'na no Aidoru)
National Idol (こくみんてきアイドル, Kokuminteki Aidoru)

Major (メジャー, Mejā)

Selective Idol (せんばつアイドル, Senpatsu Aidoru)
Super Busy Idol (おおいそがしアイドル, Ooisogashi Aidoru)
Idol on Demand (ひっぱりだこアイドル, Hipparidako Aidoru)
Famous Idol (ゆうめいアイドル, Yuumei Aidoru)
Familiar Idol (おなじみアイドル, Onajimi Aidoru)
Hottest Idol (うれっこアイドル, Urekko Aidoru)
Debut (デビュー, Debyū)

Verge of Big Break (ブレイクすんぜん, Bureiku Sunzen)
Decisive Idol (いちおしアイドル, Ichioshi Aidoru)
Idol of Interest (ちゅうもくのアイドル, Chuumoku no Aidoru)
Rookie Idol (しんじんアイドル, Shinjin Aidoru)
Promising Idol (きたいのアイドル, Kitai no Aidoru)
Hatchling Idol (ひよっこアイドル, Hiyokko Aidoru)
Student (研究生, Kenkyūsei)

Idol Egg (アイドルのたまご, Aidoru no Tamago)
Idol Gemstone (アイドルのげんせき, Aidoru no Genseki)
Twinkling Student (キラキラけんきゅうせい, Kirakira Kenkyūsei)
Persevering Student (がんばりけんきゅうせい, Ganbari Kenkyūsei)
Fledging Student (かけだしけんきゅうせい, Kakedashi Kenkyūsei)
Shining Student (ピカピカけんきゅうせい, Pikapika Kenkyūsei)
PriPara Debut (プリパラデビュー, Puripara Debyū)
Current Idol Ranking
Gallery
Trivia
Tricolore and NonSugar have the same idol types. Non and Faruru are lovely, Chiri and Hibiki are celeb, and Pepper and Fuwari are natural
SoLaMi♡SMILE is the only unit to have a lovely, cool, and pop type idol.
Dressing Pafé, Ucchari Big-Bangs, and Gaarumageddon all have double of one type of idol. Dressing Pafe has two pop, Ucchari Big-Bangs has two premium, and Garumaggedon has two lovely.
Ucchari Big-Bangs is the latest unit in Parajuku Pripara. While EVER GOLD is the newest and latest unit in Paparajuku Pripara.
When Divine Idols perform on their own or without the full team, their autographs will be shown behind them after their Cyalume Change. However, when they perform as a team, it will be their unit logo that is shown in place of their autographs.
Community content is available under
CC-BY-SA
unless otherwise noted.