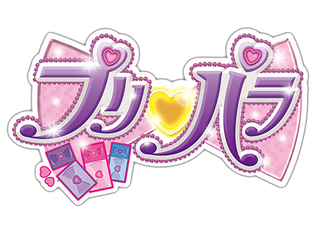 PriPara (Prism Paradise) is the successor to the popular Pretty Rhythm series. The series follows several young girls in the journey to become idols such as the main star Laala, an elementary school student who attends a school where idols are banned and she herself accidentally becomes an idol. The game opened up on July 2014 in arcades all over Japan. The first episode aired on July 5th, 2014.  
On April 4, 2015 Season 2 aired, followed by the final season on April 5, 2016. In April 2017, a sequel series by the name of "Idol Time PriPara" came out.
It was aired in South Korean as 프리파라, in Hong Kong and Taiwan as 星光樂園(Xīng Guāng Lè Yuán) and in Mainland, China as 美妙天堂 or 星光乐园.
Synopsis
The new anime is set in the PriPara world, filled with girls' dreams for fashion, dance, and music. Every day, there are auditions that send top idols to worldwide fame on television and online. However, Laala's school prohibits PriPara for elementary school children. An unexpected chance leads Laala to make her first entrance into the world of PriPara, where she will make her debut. PriPara is also a new game which is replacing Pretty Rhythm. Like Pretty Rhythm, PriPara has an anime which is based off of the game, and has a story line to it. The main characters, Laala, Mirei, and Sophie, are also on the game. 
Starting from Episode 26, students that study in Paprika Private Academy were allowed to go to PriPara. 
In Idol Time PriPara, Laala is tasked with attending Avocado Academy and meets Yui Yumekawa, a young girl who dreams of becoming an Idol.
Characters
See Characters.
Episodes
The anime adaptation of PriPara is scheduled to have 3 seasons so far. There are 38 episodes in Season 1, while Season 2, 3, and Idol Time Pripara each had 51 episodes.
Follow this link to go to the Episode Guide.
Trivia
The PriPara series has several references to it's predecessor Pretty Rhythm.

The members of Saints are the 3 protagonists from the 3 Pretty Rhythm franchises.
Prism Stone remains a key location.
There is a brand in PriPara called Pretty Rhythm and uses some coords from the original Pretty Rhythm game.
Styles Lovely, Pop, and Cool remain in the PriPara universe and Feminine, Ethnic, and Sexy are blended in with the other 3.
Many of the background characters wear recolorments of Edel Rose's uniforms or are recolorments of the members in Bell Rose.

At one point during Season 3 there was going to be a new character named Shichimi, discovered from the Cyalume Jewel Mic Toy.
External Links
Community content is available under
CC-BY-SA
unless otherwise noted.